Pennel Orca® Boat Fabric

---

Pennel originally used DuPont® Hypalon® as a coating on their Orca material. Because of the Hypalon coating, inflatables built with Orca were commonly referred to as Hypalon boats. Hypalon is DuPont's name for the chemical compound chlorosulfonated polyethylene (CP), which the company invented in 1940. In April 2010, DuPont stopped making Hypalon and Pennel needed to find another source of high-quality CP. They did; and extensive testing has shown that the newly sourced CP provides the same superior performance
Through the ORCA® branding of Pennel's Chlorosulfonated polyethylene (CSM) and Polychloroprene coated fabrics, the label is now recognized worldwide as the first choice by professionals of the inflatable boating industry. More than one million inflatable boats have been produced with ORCA® fabrics over the past 40 years.
---
Coastal ORCA CSM boats are made with ORCA 828 fabric.
ORCA Fabric for marine use has 3 different grades, The ORCA 215, ORCA 820, ORCA 828 and the ORCA 866 & 866s. The ORCA 866 & 866s are for commercial use (law enforcement, military).
ORCA 215 is the material that many of Coastal's competitors use. It is the thinnest of all the ORCA fabrics. Coastal boats are made with the ORCA 828 fabric. It the best non-commercial fabric from ORCA.
ORCA 828 Description:
•Base fabric: Polyester High Tenacity 1100 dtex - 990 deniers
•Coating: Ext : Chlorosulfonated Polyethylene  (CSM) /
Polychloroprene (CR)  Int : Polychloroprene (CR) 
•Tensile strength:  > 350 daN/5cm  
•Tear resistance : > 20 daN
> 16 daN
• Surfacic mass : 1340 (±10%) g/m²
---
ORCA® fabrics most remarkable characteristics are: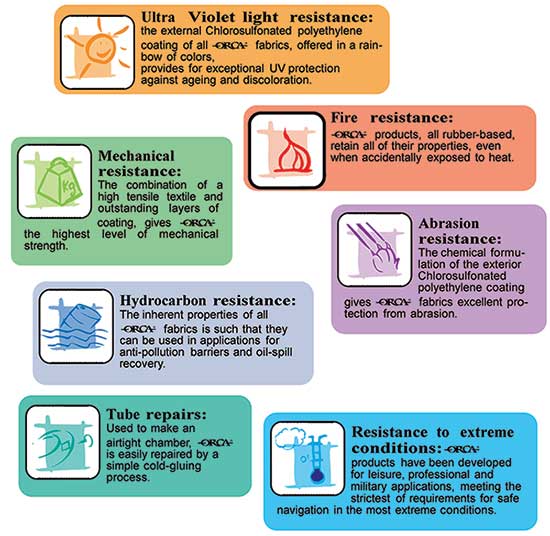 ---

Over the past 50 years, the inflatable boat has evolved from essentially a military vessel to a primary choice of transportation for leisure boaters and professionals alike. This evolution would not have been possible without a revolutionary improvement in materials and inflatable boat design.
There have been some spectacular advances in the construction of coated fabrics: for example, the development of such synthetic fibers as polyamide or polyester for increased strength and durability.
The coatings, which protect the textile and ensure air-tightness, have also seen equally significant advances: progressing from natural rubber (sensitive to aging) to synthetic Polychloroprene and Chlorosulfonated polyethylene rubbers. These coatings are now the industry standard for inflatables worldwide.
PENNEL & FLIPO has been the industry LEADER in the development of these new coated fabrics, customized for inflatable boats. There are three principles that drive this development:

The QUALITY is the result of Pennel's continuous attention to the quality controls of its products. Every linear meter of ORCA® fabric has an embedded code, located on the Polychloroprene side, in order to ensure traceability. ORCA® fabrics are recognized worldwide by such prestigious QUALITY organizations as RINA, MCA, Bureau Veritas.
The RELIABILITY is achieved through the perfection of the multi-layer surfacing and the optimization of properties which result in ORCA® fabric's very high safety record in the field.
The DURABILITY results from the mastery of the chemistry of polymers and their components. Special formulations of Chlorosulfonated polyethylene, developed by Pennel's laboratory, give exceptional properties to the coating to endure attacks from external sources: UV, heat, cold, hydrolysis, hydrocarbons and abrasion.
---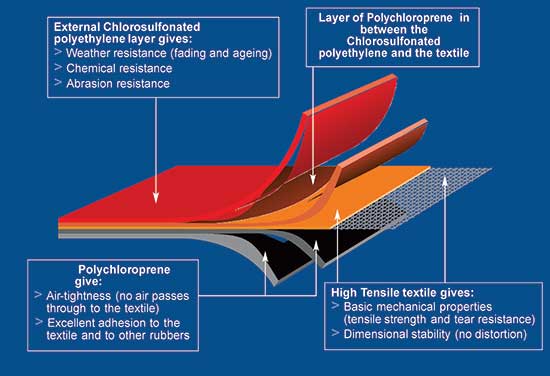 ---